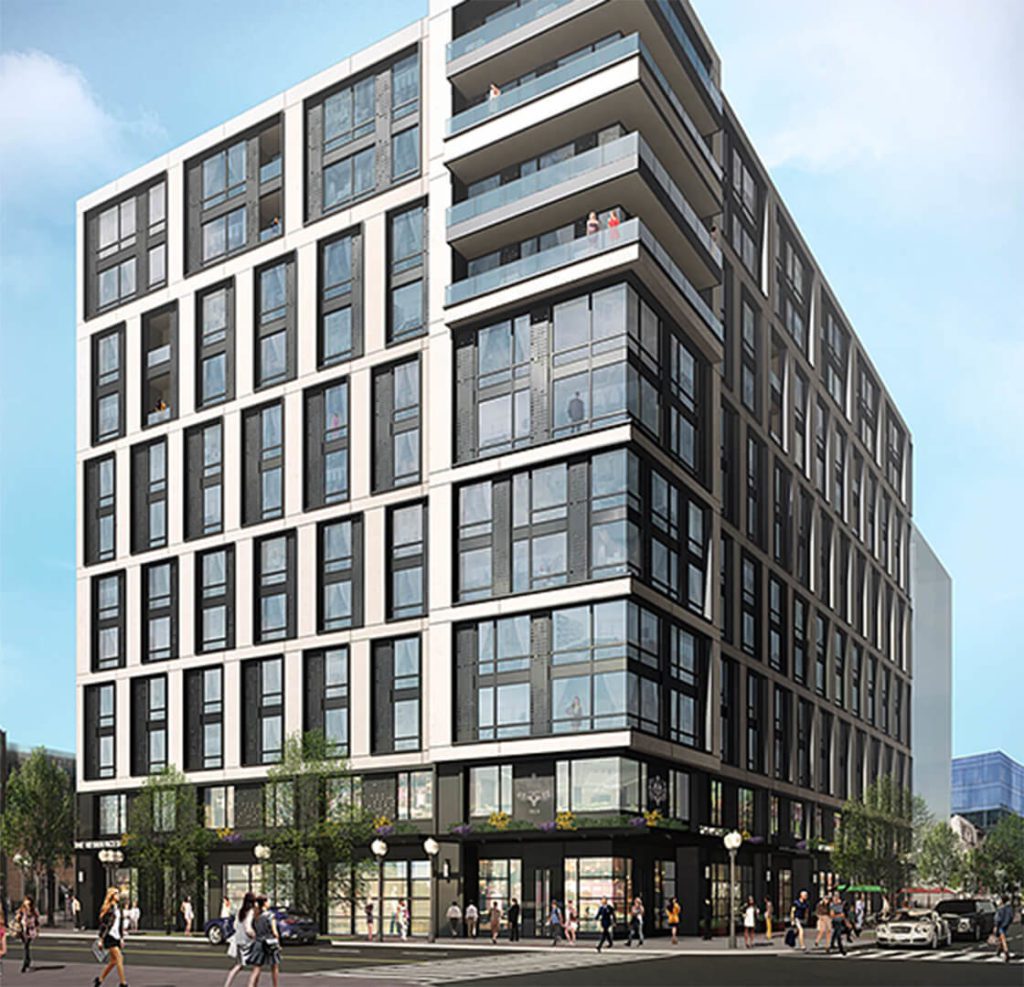 By Rebecca Cooper  – Senior Staff Reporter, Washington Business Journal
Plans for D.C.'s SLS Hotel, the first for the upscale brand in this market, are finally taking shape.
Developer Peebles Corp. plans to break ground on the 175-room hotel at Fifth and Eye streets NW this fall, according to Donahue Peebles III, senior associate of development. If all goes according to plan, it would open in late 2020.
We're also getting more details about the food and beverage offerings. The SLS Hotel D.C. will feature Japanese restaurant Katsuya from noted Master Sushi Chef Katsuya Uechi, while the lobby will have a cocktail bar modeled after Dandelyan in London's Mondrian Hotel, Peebles said. SLS parent SBE Group also owns the Mondrian and the Dandelyan concept. Dandelyan was named the world's best cocktail bar in 2017 at the annual 2017 Spirited Awards.
The project includes 175 hotel rooms, 45 for-sale condominium units, 10,000 square feet of meeting and ballroom space and a rooftop pool and lounge area. There may also be a restaurant of some kind on the rooftop but that has not been finalized, Peebles said.
The condo owners will have access to all of the SLS Hotel's amenities, from room service to housekeeping to pool access. The building will also have a dedicated area on the roof for condo residents.
SLS Hotels, in Miami, Beverly Hills and Las Vegas, are stylish and high-energy. Peebles said he expects the property bring a new level of hospitality to the District.
"D.C. is chomping at the bit for something like this," said Peebles, who recently relocated from his native New York to D.C. to live full time. "Look at how successful The Line Hotel is, and placemaking feat that was. We think that we're going to take their baton and carry it forward in Mount Vernon Triangle."
Peebles is in the process of selecting a general contractor for the $50 million, eight-story hotel. The design, from Italian architect Piero Lissoni, is sleek, with modern furniture, artwork and light fixtures. Renderings show a dramatic rooftop, including an infinity pool that appears to have a fire pit in the middle of it.
The SLS will join a number of new buzzy hotels in the Mount Vernon Triangle neighborhood that sits just east of the Walter E. Washington Convention Center. The D.C. area's first Tru by Hilton is planned for 925 Fifth St. NW, and Douglas Development also plans to build a hotel, which may fly an AC by Marriott flag, at Sixth and K streets NW. Developer Habte Sequar has also floated plans to build a 200-room hotel at Third and K streets NW.
The SLS project — the first major one the younger Peebles, son of Peebles founder R. Donahue Peebles Jr., has led — has been a long time coming. The company won the right to develop the hotel on the city-owned lot in 2014, but it had eyed the site since D.C. first issued a request for proposals back in 2007.