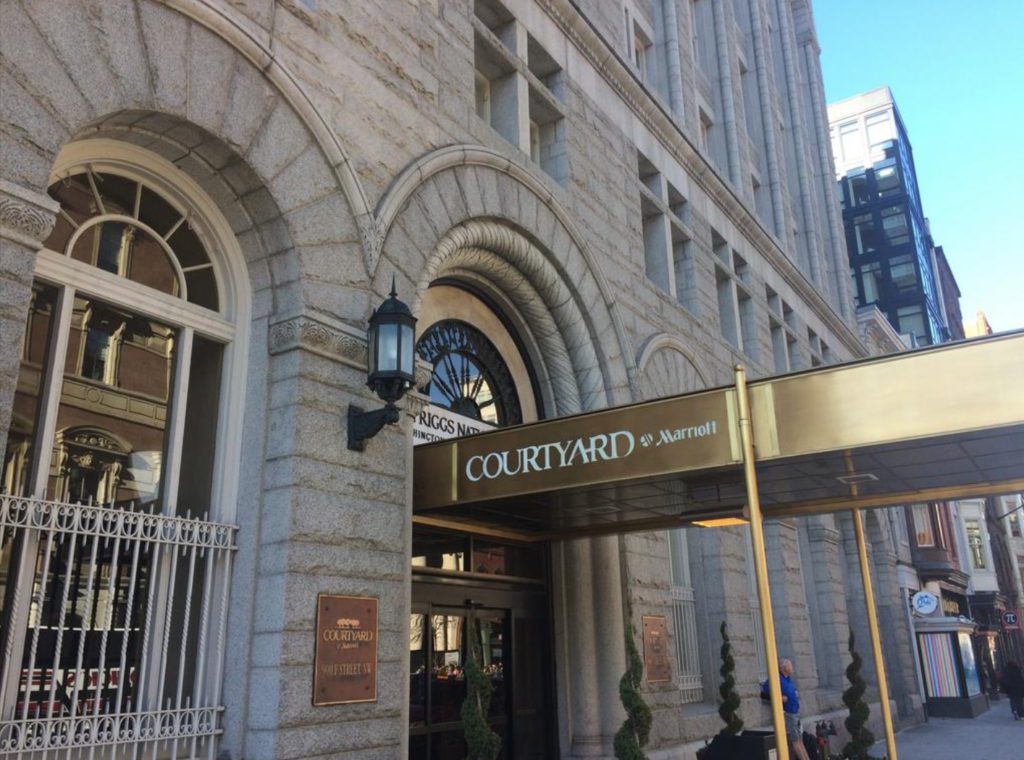 By Daniel J. Sernovitz  – Staff Reporter, Washington Business Journal
A partnership including New York-based developer The Peebles Corp. has sold the Courtyard by Marriott hotel building by Ninth and F streets NW for $83 million, nearly a quarter-century after the developer acquired the historic Riggs Bank building from the Resolution Trust Corp. for just $5 million.
Peebles, with partners The Donohoe Cos. and Penrose Group, sold the 188-room hotel at 900 F St. NW Tuesday to Global Holdings, an international real estate investment company led by Chairman Eyal Ofer. The sale, which works out to nearly $441,500 per room, comes as Peebles gears up to develop what's planned as a five-star SLS Hotel and Residences by Fifth and Eye streets NW a few blocks away.
Peebles President and CEO Don Peebles said the group determined the property's value had peaked and that additional renovations would have been required to boost that figure. The hotel's taxable assessment is about $62 million, according to D.C. land records.
"I think the value of the property had kind of topped off. We got a tremendous return on the investment," Peebles said. "It was just time for us all to go our separate ways. We've been partners for nearly a quarter of a century."
The property was marketed by Eastdil Secured.
The area is a far sight better these days than it was 25 years ago. Across Ninth Street is a Shake Shack and, until it moves to its new home near L'Enfant Plaza, the International Spy Museum. Across F Street is the Gallup Organization's global headquarters. And diagonal is the Smithsonian American Art Museum.
But 25 years ago, the vacant, 10-story office building was just one piece of real estate suffering through the thick of the savings and loan crisis of the late 1980s and early 1990s. And in a pre-internet world, Don Peebles had to take time out from his honeymoon in Montana to find a notary.
The year was 1992, and the Resolution Trust Corp., formed to liquidate distressed assets, required prospective buyers for the historic Riggs Bank building to have their bids notarized. Peebles found one in the closest town to where he and his new bride were staying. While it took some time, he acquired the 97,000-square-foot office building in 1994 and launched an $18.5 million renovation that converted it into what the WBJ described in a 1999 article as " the crown jewel of F Street."