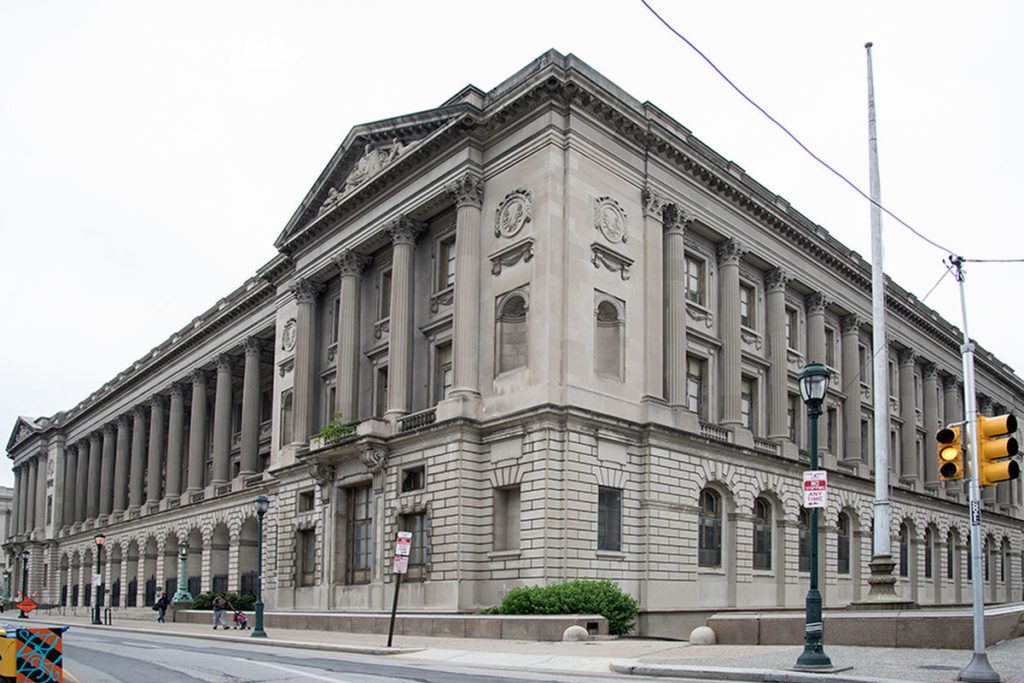 Plans to convert the former Family Court building in Center City into a boutique hotel have been declared eligible for a federal tax credit aimed at supporting historic-preservation projects, offering a boost to the long-stalled proposal.
The National Park Service approved developer Peebles Corp.'s renovation plans for the 76-year-old building at 1801 Vine St. on Dec. 29, said a spokesman for the agency, Jeremy Barnum.
The Park Service had rejected an earlier plan for the building from the Coral Gables, Fla.-based developer, ruling that the then-proposed renovations would "severely downgrade" the court building's historic character.
Barnum said he was unable to discuss changes made to the plan since its rejection in May. Peebles spokeswoman Nicole Goldberg did not respond to an email.
When Peebles was awarded the project in 2014 after a competitive bidding process, Philadelphia officials described the court building's renovation as a vital step toward further enlivening the Benjamin Franklin Parkway.
The developer's plan for the vacant Beaux Arts court building called for 199 guest rooms, a 3,500-square-foot ballroom, meeting and board rooms, a spa and fitness center, and a restaurant and bar.
The bid originally called for the building to be developed as part of the Kimpton Hotel & Restaurant Group, which operates Center City's Monaco and Palomar hotels. In July, a Kimpton spokeswoman said her company had never formalized an agreement with Peebles for the Family Court property.
Peebles previously attached an $85 million price tag to the project, though rising construction costs since its original proposal could increase that figure.
Officials with the Pennsylvania State Historic Preservation Office, which administers the tax-credit program with the Park Service, said last year that the credit would knock $14.6 million off Peebles' development costs, based on previously submitted project estimates.
With the tax-credit approval in hand, Peebles should have new momentum to push forward with its plan for the building, said Peter Tyson, a managing director at commercial real estate firm CBRE's hotels division in Philadelphia.
The developer now knows how much money it needs to borrow or raise from investors to finance the project, Tyson said, and should find it easier to convince a hotel brand — whether it's Kimpton or another — to lend its name to the property.
"It should enable all the pieces to come together and get the thing moving," he said.