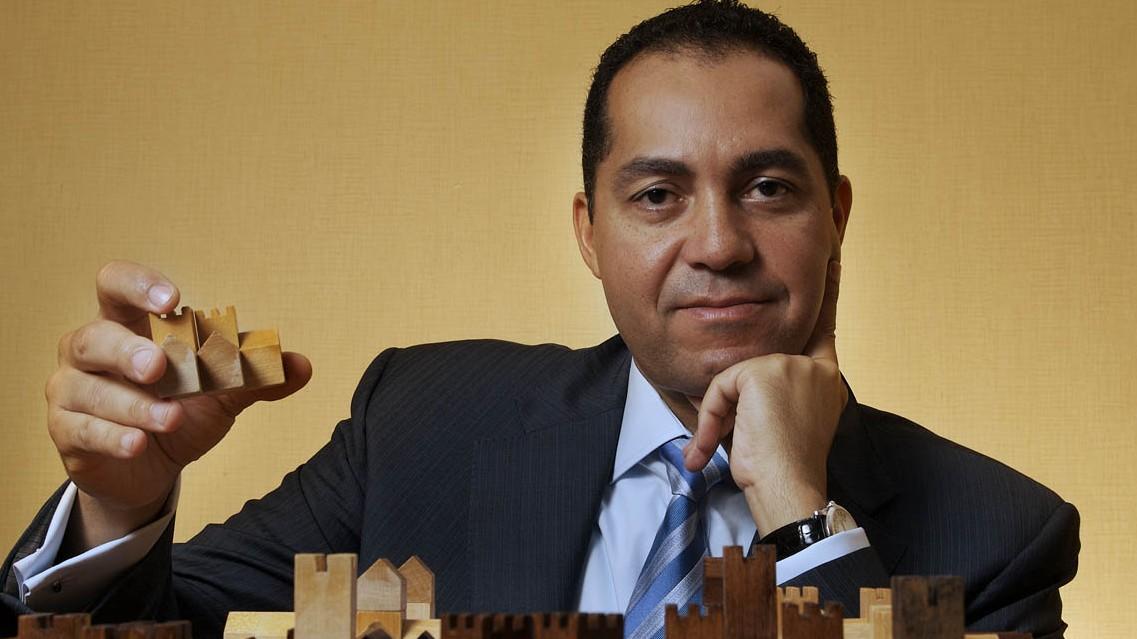 by Chloe Sorvino - Forbes Staff
Don Peebles is already one of the most successful African American CEOs in the country, but his recent building spree has put him one step closer to becoming a billionaire.
Forbes now estimates that his net worth is more than $700 million – and with several nine-figure developments underway, his fortune could very well keep going up.  Peebles, 54, says he's built up his six million square foot portfolio by picking deals that transform and open up opportunities. He's known for weaving in $10 million and up apartments alongside redevelopment projects in some of the most impoverished areas in cities across the Eastern seaboard.
"The projects we tend to be attracted to are those that have greater impact, greater symbolism," Peebles said. "Our number one focus is that our buildings are vehicles or symbols of opportunity. Our goal is to develop projects that transform communities."
The son of a car mechanic, Peebles grew up in D.C.'s Petworth neighborhood until age 5, which is now a rapidly gentrifying area. After his parents divorced, he moved briefly with his mom to Detroit before they came back to D.C. for good. It was then that he began volunteering for political campaigns and working as a page on Capitol Hill during high school. Peebles said long-serving D.C. mayor Marion Barry mentored him, and at the age of 24, Barry appointed him as the city's chairman of the real estate tax appeals board.
In 1987, the Rutgers University drop-out began working on his first project in the down-and-out D.C. neighborhood of Anacostia, a development he said was necessary to revive "once a thriving commercial quarter destroyed by the 1968 riots."
Peebles announced he was exploring a bid for D.C. mayor in 2009 before dropping out to support his wife after his mother-in-law was diagnosed with cancer. He currently serves as the vice chairman of the board of the Congressional Black Caucus Foundation Board of Directors and is a member of President Barack Obama's National Finance Committee.
He'll likely be on a ballot somewhere soon. Peebles said he wants "another challenge" and with personal residences in New York, Washington D.C. and Miami, he has options.
"Mayor of New York sounds like an interesting job. So does Mayor of Washington, D.C.," he said.
His company's recent building boom has kept him busy, though. His Peebles Corporation secured the bid for its first project in Boston, a $330 million contract to develop a hotel, condo and retail corridor connecting the Berklee and Fenway communities with Newbury Street. The contract, announced earlier this month, marks the company's second-largest deal in its history. The biggest is a joint condo and retail project at 108 Leonard Street in New York City's Tribeca.
The company's focus on working in cities lends well to developing both luxury and affordable projects, and his company has recently tripled the space in its New York office – a city with one of the world's largest wealth divides. What's pushing him, he said, is shrinking the wealth gap by providing greater access to opportunity, and says his company focuses on helping women and minorities.
"I attribute my success to access to opportunity," Peebles said. "The status quo is not a sustainable situation for businesses. It's in our interest as entrepreneurs to provide greater access to opportunity."
The most blatant example of that is his 1998 acquisition of Miami's prestigious Bath Club. Two years before buying it, he was the first African American member to gain admittance to the exclusive social scene.
"I found the purchase of it somewhat ironic. It was a club that didn't allow African American or Jewish members. The fact that I was able to buy it sent a message at the time of how far Miami had come as a city," he recalled.
Now, he's building an intimate, 13-residence property, dubbed The Bath Club Estates, as an expansion of that landmark deal. With apartments that will range in price from $10 million to $50 million, the property even boasts a three-story penthouse, one that Peebles said they designed with the goal of building "the best penthouse in Miami Beach."
That luxury property, which is scheduled to be completed in 2016, is worlds apart from the redevelopment project in Miami's Overtown neighborhood that his company will be breaking ground on soon. He said he hopes to transform the combined 3 million square feet with office, retail and condo space, helping to lift the community out of poverty.
The Peebles Corporation is also currently courting other potential developments in high-profile areas, including Times Square, Chelsea's technology corridor in New York and downtown D.C.
Jack McCabe, a Florida-based real estate analyst at McCabe Research & Consulting, said the company has very few competitors of the size which have as big a range in the types of properties they build, from neighborhood redevelopments, hotels, high-end office space, historic projects and luxury condos.
"He basically just picks what he likes," McCabe said. "It's usually these entrepreneurial companies that are successful in producing a diversified portfolio that you wouldn't be able to see anywhere else."
https://www.forbes.com/sites/chloesorvino/2015/01/27/successful-african-american-real-estate-mogul-inches-closer-to-billionaire-status/#2de4562a7fc5