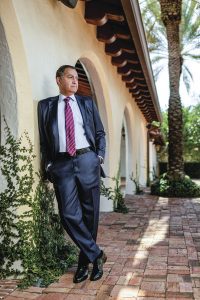 By Luis R. Rigual 
The restoration of The Bath Club, a historic playground that dates back to 1928, has been a labor of love for developer Don Peebles since he acquired the property 21 years ago. That arduous process will see the light of day this month when the building opens its doors to the carefully chosen 200 folks paying about $15,000 a year for said privilege. We spoke to Peebles about the club's rebirth, how he plans to amend its exclusionary past and the many pleasures its members can expect.
(1) You purchased The Bath Club back in 1999, but you have a rather interesting history
with the property, don't you? I was actually the first African American member, something I was not aware of until I received a phone call from a reporter. So to be a part of an institution like this and be the catalyst for positively transforming it motivated me both as a developer and member.
(2) This is a historic property. Were the restrictions for its restoration a developer's nightmare? The guidelines are actually wonderful... a large part of our goal is to offer members an authentically historic private beach experience, so retaining the beautiful Mediterranean structure of the 1920s would have been done even if it had not been mandated. It's easy to find a hotel beach club, but to be part of history is a rarity.
(3) Miami has plenty of private exclusive clubs. What do you consider to be The Bath Club's advantage? The privacy! It takes space to have real privacy and not be stacked atop your fellow loungers on the beach. We offer nearly two football fields of ocean frontage, which is more than any other club. And with only 200 members, you get amazing space and service.
(4) Back in its heyday, this property was the playground of the Miami elite and luminaries of the time, but it did not accept blacks or Jews. Who do you see as members today? Members will be purposely chosen to reflect what I call our exclusively inclusive mindset, representing a broad number of religions and cultures, which wasn't the case in the past. We want people who want to feel like they're in their own elegant home, regardless of race or ethnicity.
(5) What else are you working on these days? I'm looking for new deals in Miami and Miami Beach. I'd love to build a new hotel and condo project. And I'm working in markets like Charlotte in North Carolina where I'm developing 17 acres to celebrate the history of an area called Brooklyn there. I'm also developing in Los Angeles. Development has the wonderful ability to help steer history and drive interaction, opportunity and mindset.
Credit: Modern Luxury Miami Magazine