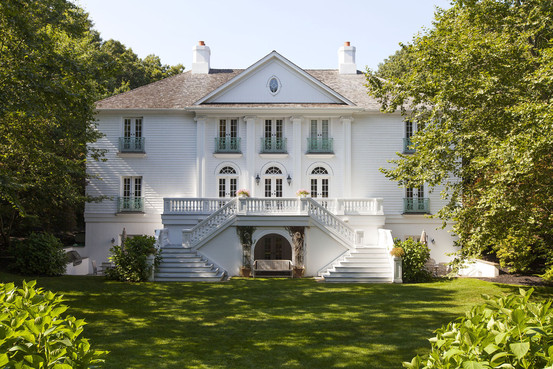 Don Peebles, the son of a mechanic, built a real-estate empire that includes three palatial family homes in the Hamptons, Washington, D.C., and Coral Gables, Fla.
The Bridgehampton, N.Y., home purchased by Don Peebles in 2007 for just under $5.4 million. ERICA GANNETT FOR THE WALL STREET JOURNAL
As the founder and chairman of a multi-billion-dollar real-estate development and investment company, Don Peebles knows how to hold out for a deal.
"I was sitting in Miami one summer, and it was so hot," Mr. Peebles recalled. So in 2004, he started to look for someplace cooler—and found an 11-acre compound in Bridgehampton, N.Y., listed for around $20 million, he said. He waited as it came down to $9 million, then $5.95 million. In 2007, he and his wife Katrina paid just under $5.4 million for the home.
"When I buy, I want to be able to feel good that I can sell it in any market and not lose money," Mr. Peebles said.
Today, the Peebles, who have a 20-year-old son, Donahue III, and an 11-year-old daughter, Chloe, typically spend long summer weekends at their Hamptons home, arriving by helicopter from Manhattan, where the family rents a penthouse in the Financial District. If instead the family is coming from home in Coral Gables, Fla., or Washington, D.C., a private plane takes them to the Hamptons.
Mr. Peebles, 54, grew up in Washington, D.C., the son of a car mechanic. His mother worked in real estate to support the family after his parents divorced, giving him an early look into the industry. As a teenager, he began volunteering for political campaigns, and served as a page on Capitol Hill in high school. He left college after a year to work as a real-estate agent and, later, a property appraiser. His early years of political work paid off: At 24, he was appointed by Marion Barry, then D.C.'s mayor, as the chairman of the city's real-estate tax-appeals board.
His Washington connections both in politics and the close-knit world of real estate helped fuel his ascent. In 1987, he broke ground on his first building. His company, Peebles Corp., with offices in Miami and New York now includes a multi-billion-dollar portfolio of condo projects, hotels and office buildings. African Americans are rare in the upper tiers of real-estate development, and Mr. Peebles noted that people would often underestimate him as an African-American man on the rise in the industry. Since there weren't any industry mentors for him to look up to, "I had to figure it out myself through trial and error," said Mr. Peebles, who has written two best-selling books on wealth and investing.
In 1992, he married Katrina, a former public-relations and advertising executive who grew up in a military family. They met in Washington—he saw her walking down the street in Georgetown on a summer evening and asked her out. They moved in together a month later. She is now principal and creative director at Peebles Corp.
Together, their development projects include the Royal Palm Hotel, a 420-room hotel in Miami Beach, and the Residences at the Bath Club in Miami Beach, a 1928 private club that was restored and developed with 107 luxury condominiums and six oceanfront villas. The company is currently developing a Standard Hotel in D.C. that will have 59 condominiums and 198 hotel rooms, as well as a luxury condo building in Tribeca, 108 Leonard Street.
"One of the things I like about this business is it gives you the opportunity to live many places," said Mr. Peebles, who tends to buy homes in the areas in which he's working.
Mr. Peebles has had a few high-profile stumbles. In Washington, a $47 million office-lease deal in the mid-1990s fell through, and Mr. Peebles took some criticism over his close friendship with controversial former Mayor Barry. The incident ultimately drove Mr. Peebles to start looking for business in Miami, where he relocated with his family in 1998.
While driving his son to school in Coral Gables, Mr. Peebles spotted a Mediterranean Revival-style property under construction that was designed as three homes under one roof. Around 2003, he offered to buy the property unfinished, a deal the owner rejected. In 2004, the home's contractor called to tell Mr. Peebles the home was still available. By the end of the year, the couple purchased the property for $5.45 million.
"We knew we wanted a compound," recalled Mrs. Peebles. But the place still needed lots of work—more than they initially realized. "After we closed, I went to look at it and I couldn't believe I had bought it. I couldn't go back there." Mrs. Peebles spent the next year overseeing the home's completion, which came together just in time for Mr. Peebles's 45th birthday party, which they hosted at the home just a couple of hours after the construction crews pulled away.
The 17,000-square-foot home on 3½ acres was built mostly of concrete, to withstand hurricanes. But the facade is now covered with vines. "It was so much cement, I had to grow something so it wasn't just 17,000 square feet of stucco," Mrs. Peebles said.
Inside there are ornate crown moldings, tile and hardwood floors and a chandelier hanging in almost every room. Interior archways and columns give the home a historic feel, and there's a walnut wood-paneled library as well as a lake-like saltwater swimming pool out back.
The formal vibe is something almost all of their homes have in common. "Formal is friendly and familiar to us," says Mrs. Peebles. "It's just the way we live."
Their Bridgehampton home, designed by Peter Cook, was built in 2000, but has Gilded Age amenities. French doors open to wrought-iron Juliet balconies in the 11,000-square-foot, four-story main house. A dramatic Versailles-esque double staircase off the back of the home overlooks a large, manicured lawn where the family plays football and softball.
A French country kitchen with copper sinks is downstairs on the home's lower level—a nod to a time when cooking was done by the staff, out of sight of homeowners and guests. The Peebles say they hire a local chef for events and special occasions, but also enjoy doing much of their own cooking. Every morning, the staff sends a tray of coffee from the kitchen up to the Peebles's second-floor master suite via dumbwaiter. When hosting company in the main dining room, the staff sends up trays of prepared food on the dumbwaiter. Having food prepared by a staff separately downstairs, Mrs. Peebles said, "lets me focus on our family and my guests."
In 2007, the same year they bought their Bridgehampton home, the couple acquired a 1929 Tudor-style home in D.C.'s Massachusetts Avenue Heights neighborhood, near the vice president's residence. With espresso-colored hardwood floors, white walls and minimalist window coverings, the home has a more contemporary feel than the other properties. In the family room, there are painted white stone walls and a large abstract painting. Mr. Peebles, who briefly considered a run for the mayor of D.C., described the 10,000-square-foot house as "understated from the front, but very grand in the back." The couple paid $5.9 million for the home. In 2011, the Peebles hosted an event for President Barack Obama there, and they have hosted various political fundraisers at their other homes as well.
In most of their homes, they've added a few whimsical and kid-friendly touches that offset the formality. In Bridgehampton, for example, there's a trampoline out back and a giant abstract painting called "Tree of Life" at the bottom of rotunda. In a bathroom nearby, two tiny bronze figures rappel down a wall.
The Peebleses said that perhaps the only thing missing from the Bridgehampton home is the beach. A few years ago, they decided to buy another home in the area that's right on the water. On a recent afternoon they cruised over to Sag Harbor, about five minutes away, in their Rolls Royce Phantom convertible to their 2,500-square-foot home in a quiet, predominantly African-American enclave.
They purchased the beach house in 2008 at an estate auction, placing the winning bid over the phone for $2.2 million. They spent several months and about $800,000 gut renovating the property. (Their son, 14 at the time, earned money that summer helping with demolition and roof work.)
The three-bedroom, 2½ bathroom home is close to its neighbors and perched a bit above the beach, which is just down a wooden staircase from their back deck. On a small lot, the home has a wood-and-brick exterior that has been painted white. A terrace spans the upper level with a clear Plexiglas railing—a design element "borrowed from the development world," said Mr. Peebles. Crisp, white-leather chairs and a couch surround a fireplace clad in stone. The master suite has a vaulted white ceiling, and the walls are decorated with nautical map artwork.
Sometimes they'll retreat to the smaller beach house just for the day, or spend a night or two away from their larger Hamptons home. In the summer they'll gather with friends on the deck to watch the Fourth of July fireworks over the water.
Mr. Peebles said they plan to hold onto the beach house for a few years because his son, who works for Mr. Peebles in addition to attending college, said he wants to save up to buy it for himself.
"I'll sell it to him at cost," said Mr. Peebles.
https://www.wsj.com/articles/don-peebles-real-estates-self-made-mogul-1409248731